Women under 50 with rheumatoid arthritis are at a greater risk of breaking bones.  Rheumatoid arthritis can lead to chronic, debilitating inflammation of the joints in the body. People over 50 are more likely to break a bone from a simple fall or sometimes just stress such as coughing. Men are in more danger of fractures but, the risk seems to surface when they are older. In men and women with this disease with new fractures, are more likely in their counterparts regardless of their age. Not only does this disease last long it can be very painful.
Biologists have known for over 50 years that the immune system can attack the body's own tissues. Researchers have begun to suspect that the mechanism is linked with the failure of the immune system. Between the proteins on the bacteria the body produces under stress.  People with rheumatoid arthritis suffer from stiffness and painful swelling in the joints which becomes worse over time. The events that eventually lead to inflammation in the joints are already in place by the time the symptoms appear. Athough scientists have been trying to find a cure they have only found ways to help the pain.
Rheumatoid arthritis is a chronic progressive joint that starts with inflammation of the synovial membrane and soft tissues around the joints. The disease is very painful. The cause for this disease still remains unknown.  The disease can be slowed down but it cannot be cured.  Protein A20 is a key role that plays in the inflammatory response. The protein A20 is a tumor necrosis factor and an interleukin that negatively regulates nuclear factor-kappa B (dependent gene). Although Rheumatiod Arthitis can cause breaking bones and joints they can only find ways to slow the process down.
The new treatment that helps patients who have arthritis over the age of 22 had become resistant to the medication. The treatment involves removing the body's B lymphocytes or the antibody-manufacturing cells. Patients were treated with B cell removing drugs, including a new drug called Mabthera. After 18 months the patients say a 70 percent improvement.  Most of the patients are leaving normal lives. People with this disease can break bones very easily. Just by a simple fall or by stress. Even though scientists can not find a cure they will not give up.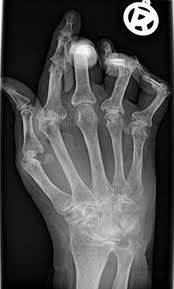 Is there any way they can get rid of Rheumatoid arthritis?
What can scientists and doctors do to limit pain?
Can they prevent this disease from happening?