Most movie stars and famous people have bright white teeth that normal everyday people wish they could have. Many people say that the most important feature is your teeth. People try and get their white teeth by bleaching their teeth themselves to save money. Little does everyone know that doing so can hurt your mouth quite a bit. There are a lot of aspects on teeth whitening such as why people even bother whitening their teeth, next is the precautions people should take, and last is the different types of products used.Even most movie and TV stars have them either professionally done or they have veneers, so the average person can never have teeth as white as them. This can cause some major problems for people. Whitening teeth is becoming very popular whether is at the spa, dentist office, or even at home. It is estimated to be getting more popular by 15 to 20% a year, according to Foley and Poust. Another part of teeth whitening is the precautions and risks.
At home whitening kits work well depending on what kind of eating or smoking habits a person has. For example cigarette smoke, coffee, or red wine can be factors of how long at home whitening lasts. A person can get whiteners at any store, which work best on yellow teeth not on gray or off tint white colors. Some side effects according to Foley and Poust, are irritation of the gums and possible bleeding. Dr. Coats explained that if your gums and teeth are sensitive for a while after bleaching, that's a sign you may be bleaching too much or too long. According to Carpenter's article, Dr. Coats says the teeth can actually lose whiteness and turn gray. People may even have flakey gums from excessive teeth whitening. These are all side effect from major usage of whitening strips and at home whitening. Some precautions a person might want to watch out for would be if they have gum disease, receding gums, or sensitive teeth, a person shouldn't use whitening because it can cause even worse damage. Lastly the types of whiteners can vary from good to bad, so it is important to use the right one.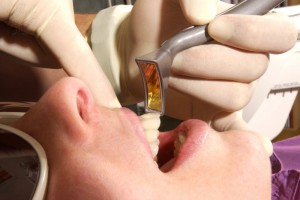 Even though whitening products all are used for the same thing, they surprisingly aren't the same at all. In fact some have much better results than others. For example over the counter has different kinds or whitener that a person can choose to use either the whitening strips, the whitening trays, or mouth guards give the best results . Depending on the formula, some only are in for five to ten minutes. Another option is what dentists use which is a different formula according to Swain. The product is usually carbide peroxide, but at the dentist's office it is different. Dentists tend to use a hydrogen peroxide product and may also use light to increase the start of bleaching. Everything is different when it comes to teeth whitening at home and teeth whitening at a specialist.
Many people have streaks on their teeth because of over whitening or bleaching their teeth too often. Once the enamel is damaged, the teeth cannot be repaired. There are a lot of aspects on teeth whitening such as why people even bother whitening their teeth, next is the precautions people should take, last is the different types of products used.
What are some home remedies that cost someone little to nothing for whitening?
Is whitening toothpaste better or worse than the actual whitening products?
How do Veneers work to make people's teeth look a lot better than they use to?