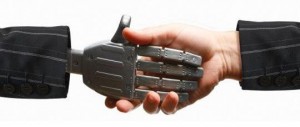 The prosthetic limb has changed greatly over the decades.  It went from just having a wood limb to having a bionic limb.  I was thinking about bionic limbs a while ago.  After watching Star Wars of course, and the part where Luke gets his new hand after it was cut off from Darth Vader.  I was thinking if that could be true.  As I saw this I asked questions like how they can be controlled, how are they used, and how well do they work now?
How can bionic limbs be used?  Not only now can bionic limbs move by controls from basic gestures or muscle movements. Just recently they can now be transmitted through the nerves or brain-computer interface (BCI), which is like moving the limb through thoughts.  This makes it so that the limb can react to the nerves or the brain waves.  This is very common in arms not legs because it is closer the brain.  This is a huge new innovation is one step closer to the bionic hand of Luke.
How and what are they used for?  Bionics can be used to replace an arm.  They can be used to replace a leg.  There is a bionic eye that takes the place of photoreceptors that are in the eye.  Photoreceptors are what give us image.  Not only do we have bionic limbs and eyes, there are also implants that can help people hear.
How well do they work?  With the bionic arm there are only many positions that the user can do.  Then with the ear implants they can range from just hearing aids to Cochlear Implants that make the deaf hear again.  With eye bionics people where eye glasses that send a video of what the dysfunctional eye is seeing to the functional eye.  Then there are also implants that can be implanted in the eye to see.  All of these are all done without any body movements like in the past.
All of the bionic limbs and parts shown are not quite perfect but that is what scientists are working on.  From I Robot to Star Wars bionics have been amazing.  In the world today it isn't quite movie perfect but it is still amazing.
What do you think will be the next step in Bionics?
If you lost a limb would you have a bionic limb?  Why or why not?
Will bionics ever be advanced enough to replace the feeling lost in the bionic limb?