The other day, I was looking at my dog Dakota, and I started wondering how she affected mine and my family's health.  I knew that by having a dog or a pet in the house could affect babies' immune system by keeping the babies exposed to foreign bacteria. But I didn't know how dogs could affect other family members. So I did some research.
While investigating, I found out that cuddling with a dog and having them around significantly reduces your blood pressure and people who have been interviewed have said that they have been a lot more relaxed and calm since they've gotten a dog. I even found that just meeting your dog's eyes from across the room automatically help us cope with stress.  I found that playing with your dog can also reduce stress and let you let out that inner child inside of you. While you play with your dog, it focuses your attention on that one thing so you aren't worrying about something that makes you stressful. Walking your dog can even benefit you in many ways. First it gives you one-on-one time with your dog so they can get to know you more. Last, it gives you and your dog the opportunity to get the exercise that you both need.
Continuing my research, I discovered that people who have a pet are less likely to suffer from depression than those without pets. Also, heart attack patients are more likely to survive longer if they have some kind of pet living with them. Having a dog can also affect your lifestyle. By taking the dog out for a walk, you are getting exercise while you are keeping your dog healthy and fit. While walking your dog, he most likely stops and sniffs another dog every once in a while. This helps you meet new people. For people with children who have disabilities, dogs help regulate the child's stress levels and help them develop better motor skills if they play with the do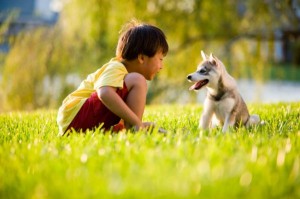 Having a pet can offer physical, social, emotional, and cognitive help. Dogs require exercise and love. This helps they owner's physical activity. When a child sees another person with a dog, they are automatically interested and they want to pet the dog. This helps the child's social skills. Have you ever noticed that when you are sad, your pet somehow knows? Because the pet knows this, they cuddle and lick the person who is sad. This makes the person happier and affects their emotional skills. The word cognitive is the mental process of perception, memory, judgment, and reasoning. Having a pet helps this because a child might become attracted to a specific breed of animal or dog. This helps them memorize what the dog looks like and what it's called.
There are also psychological benefits of having a dog. There is evidence that having a dog gives a person a sense of well-being and reduces loneliness. Pets obviously influence a person's life differently than a person would influence another person's life. Dogs have unconditional love and a human tends to get attached to an animal more than they should. Dogs often become very helpful when a person is sad or grieving. They are able to give and receive affection more than any other human or animal.
I know that if I didn't have Dakota, I would be sad all the time. While I was doing this research, I found that all of it was true. My dog never gets sad or mad unless she gets in trouble. If I didn't do this research I would have never known what a huge influence my dog is in my life.
If you have a pet, does it affect how you behave? If so, explain.
Do you think that your pet has affected you as you've grown up?  Why?
Could you ever get a bad feeling from a dog?