The concussions in hockey. When you and the team are on the ice, don't you ever think about getting a concussion? No matter how big the athlete/player impacts the game, everyone should be treated carefully in the same way. There are many different cases in hockey that result in a concussion. These usually happen in regular season games. I have had some experience with hockey. When I would skate and play, I was always scared I would get a concussion. The risks of getting one can be serious but now I take precaution.  Here are some facts!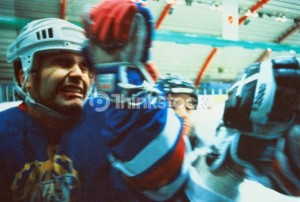 There is background information from back in the 1890's. Maybe even farther. The research was explored on the initial post-concussion signs, any symptoms, the findings and time loss of physical examinations, experience, and clinical manifestations. Over the cases the most common symptom was just a headache. Some of the NHL player's headaches were severe. The significant predators of the professional hockey players are low energy or fatigue, post-concussion headache, amnesia, and an abnormal neurologic examination.
The concussion has been defined as a pathophysiologic process that affects the brain and is induced by traumatic forces. A physician would record the date when a player was medically cleared to return to play the sport which provides a marker of a severity concussion. There are many outcomes of getting a concussion. You can get a concussion just by hitting your head in any way possible. Even if it is the slightest touch. Concussions can range from low to high. There are many outcomes to this situation.
The main outcome variable is obviously a concussion. The secondary outcome variable is the time loss; as the period of the competitive playing time that is lost by a case which is a concussion.       The interest of age, position, and initial post-concussion symptoms, signs, and other examination findings is the independent variable. Which on the physician's evaluation forms,  symptoms were included but only the ones that are consistent from season to season.  The rate of concussions was calculated in game related games or situations, there are concussions per 100 players per season.
In the end of everything there could be possible explanations include: an injury of a player that has not been observed or even recognized. The players could have not reported their symptoms to their medical staff. Players need to be aware of their surroundings and who they are against on the ice. All in all just be careful on and off the ice!
What would you do if you had a concussion?
How would you react if you had a serious concussion?
Should the rules of hockey change?