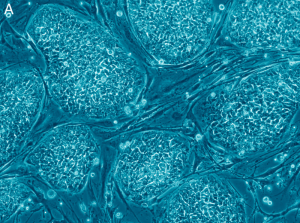 When I was doing the chapter 5 guided reading, I spent most of my time reading about stem cells. I wanted to know more about what they are able to do and the controversy in using embryonic stem cells. The main characteristics of stem cells, that you most likely know, are as follows: they can renew themselves and they can differentiate. These two characteristics are what most scientists agree on. There are also two different types of stem cells used for research. They are adult stem cells and embryonic stem cells
Adult stem cells are more likely to be rejected than embryonic stem cells, so embryonic stem cells seem better to research with. This is where the controversy comes in. When taking these cells from an embryo, scientists are killing the human child it would have been developed into. So far, these embryonic stem cells come from unwanted embryos. Politicians are trying to make this type of research illegal because they think it kills human life. I'm not saying whether this is right or wrong, but since abortion is legal and they would otherwise be destroyed, scientists should research them to help the rest of society.
There are many benefits from stem cells. They can be used to treat Parkinson's disease which slowly effects the nervous system and increasingly gets worse over time. They can also treat diabetes. That would be a great achievement since about 25.8 million children and adults currently have diabetes in the US. Another disease that stem cells have the potential to treat is Alzheimer's. I know people that have diabetes and Alzheimer's. It's devastating when your own grandfather can't remember who you are.
Stem cells are able to treat all of that, but there have been successful transplants done. Stem cells have been put into patients to replace cells that have been damaged by chemotherapy. They can also help someone suffering from cancer and blood diseases by helping the immune system to fight it off. Stem cells have already proven to be invaluable to the people that have had the transplants.
You don't have to agree with me, but I believe that embryonic stem cells should be researched. Only from embryos that are unwanted. I know this may seem cruel and the child didn't have a chance to live, but scientists aren't even sure if it's a viable life form. The greater good should be considered when given such a difficult ethical question. Do you think that stem cells could help save people? Should researchers continue to do studies on embryonic stem cells? Has anyone you know been affected by a disease that stem cells could treat?