Many people around the world don't realize how much ice we lose in the Northern ice caps and how it could affect us.  But many scientists do, and they study this so they can project what it could like in a few years and how it's going to affect us.  The ice (in millions of square kilometers) lost 5.25 sq. km. in 1980 and 10 sq. km. in 2012, which shows that, since 1980, the ice has been disappearing two fold.
Each year the arctic ice melts more and more.  Records show that September ice (September marks the yearly minimum of sea ice in the arctic) decreased at a rate of 7.8 percent every decade from 1953-2006.  NCAR scientist Marika Holland one of the study's co-authors says, "While the ice is disappearing faster than the computer models indicate, both observations and the models point in the same direction: the Arctic is losing ice at an increasingly rapid pace and the impact of greenhouse gases is growing (Marika Holland)."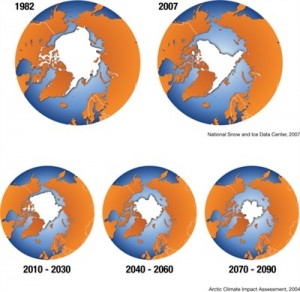 This link tells you about the affects the ice has on the planet and the record low million sq. km of ice in just the past year.  Geography professor John Yackel talks about how long until all the ice is gone.  On September 18, 2007, the Northern ice cap had shrunk to an all time low of 4.7 million sq. km.  But then, in the summer of 2012 on August 26 the Northern ice cap shrunk to 4.1 million sq. km, which is now the smallest it's ever been.  In August, the National Snow and Ice Data Center in Boulder, CO, had recorded a burst of melting which they think was the cause of it.  At present, the ice seems to be losing about 75,000 sq. km, which is about the size of South Carolina, and has nearly doubled the rate observed in 1979.
All in all, the arctic glaciers are melting very fast and are slowly changing the climate everywhere else.  And as the ice melts the ocean levels raise and in the future part of our coast could disappear.  Also the area of ice in the ocean is and has been falling very fast as observed in the 1970s and 1980s.
This video is about how much glaciers are melting and what is affecting them.  It also suggests that since the ice is melting, weather elsewhere will change.
How much millions of square kilometers has the area of ocean with about 15% sea ice gone down from 1981-2010?
How many square kilometers are the Northern ice caps in 2007?
How much square kilometers of ice are we losing each year?