Are wolves really as violent as we think they are? Movies like "The Grey" and Werewolf movies would suggest so, from my studies this is not the case. In the last 100 years there have only been 2 confirmed cases of a wolf killing a human. However there have not been any confirmed cases of a healthy wolf attacking a human. Wolf populations are low and they were just recently taken off the endangered species list. Even though they were taken off their numbers are still low.  With movies like that we get the idea it is okay to kill animals before they can kill us. Wolfs are not as dangerous as some people would like to think they are, most of the time if they saw us they would go the other way before we would even see them. Wolves won't usually even attack people without good cause. Some good causes for them are if they feel their young or territory is being threatened. Humans actually kill more wolves then wolves kill humans because of their fur and other body parts or for fear of harm.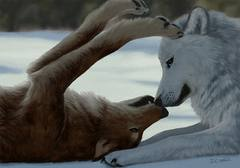 Wolves usually only live for up to 20 years, maybe even 25. Wolves were actually the most successful mammal until the human came along. In the months of December – February is when the wolves begin preparations for mating and in the spring they prepare for birth of new pups. The average gestation period for wolves is 63 days. When ready to birth the pack digs a den for the mother to give birth to her new babies. The dens are usually almost covered by brush so to hide it from predators and humans.  They will usually have 5-6 pups in a litter. During their first few months of life the pups stay in the den with mother or a "pupsitter".
Have you ever wondered when walking with your dog and he goes potty why he kicks his hind legs back? Well there is a simple answer to that! It is a trait they received from their ancestors the wolf. Usually the dominate male of a pack is the only one to do this but sometimes mid-ranking wolves may do it as well. Wolves and dogs have scent glands between the pads on their feet. They will do this to mark territory or food they have killed. Dogs may do this for a similar reason or they may just do it out of instinct.
The scientific name for the wolf is Canis Lupus. Their diet consists mostly of elk, moose, deer, rabbits, and other large animals. Wolves are social and their packs usually consist of up to 12 members. On occasion some packs may have 20 members but not usually. The pack has one alpha male and one alpha female may also contain one beta male and one beta female, beta are two wolves that are directly under the alpha wolfs.  All the wolves in the pack are usually related. Like the alpha and their pups, siblings, and cousins.  Female wolfs will usually control the female subordinates and the male controls the male subordinates but sometimes they will control both as they are both superior.
Do your dogs ever have behaviors like these? Does your dog ever show dominance over the other animals in your house? Have you ever wondered why they act like that? Wolves have a lot of different behaviors like den behaviors and how they treat outsiders and humans. They also have behaviors that were passed down to our household dogs. I hope that this information helps people understand that wolves are not as dangerous as people think they are and that they shouldn't be killed because of fear.