Why do dogs do the funny habit known as tail chasing? They could do this because they have OCD. OCD in dogs is a little different than in humans. OCD behaviors in dogs can include hallucinating, pica (appetite for non-food substances), and vocalizing. OCD is developed from 1 to 2 human years from birth, when the dog is maturing.
It occasionally is caused by stress, in which case you should see your veterinarian. Stress is not the only thing to cause OCD; it can also be caused by boredom and anxiety. If your dog is bored by it a chew toy or something else it can play with while you're away. If your dog has anxiety issues, when you are home you should spend as much time possible with your dog. Separation anxiety is a big cause of OCD.
A compulsive disorder is characterized by repetitious, relatively unchanging sequence of behaviors. No breed or gender is more likely to have OCD. Some breeds have specific types of OCD though. It could be a descendent of another dog with OCD. OCD can start to be a problem when it increases in duration and intensity.
If you think your dag may have OCD, and then ask a professional if your dog does and ways to help it with OCD. They will need to do a physical exam on your dog. Give them a thorough history of your dog's health. Your vet will also ask if there are any traumatizing incidents that could have caused it. This is the first step in assuring that your dog is okay.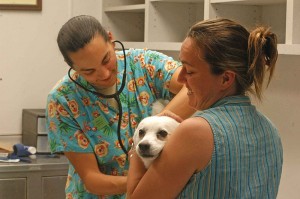 In conclusion, OCD can be hurtful to you and your dog. OCD is not very common amongst dogs in serious cases. OCD can easily become a dangerous threat to your dog. Dogs can be barely affected by OCD but still not have it. Speak with your vet if you think your dog may have it. Also stay healthy and be safe around your dog.
Will OCD in dogs be highly researched in the future?
Are all dogs susceptible to OCD?
Can you prevent OCD in your dog?