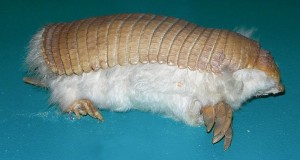 Have you ever heard of the Pink Fairy Armadillo? That's probably because they are going extinct, or it could be because they only live in Central Argentina and can't be easily tracked.
The Pink Fairy Armadillo is so different from any other animal that some people say they should have their own genus. They are the smallest species of Armadillo, weighing in at less than one pound and anywhere from 3.5-4.5 inches in length.  They only live about 5-10 years in the wild. In captivity they die within 8 days because they are very easily stressed. It lives in the sandy plains of Argentina and must have very dry soil to burrow in. They tend to live by themselves, but near ant hills since that's their favorite food. They are the only armadillos that have their shell almost completely unattached to it body.
One cool thing about Pink Fairy Armadillos is that they are amazing diggers. They can completely bury them self in seconds if they feel threatened, which is probably a lot considering that their main predators are dogs. They spend most of their time underground so they have to have super cool claws. In fact their front claws allow them to go through the sand almost like they're swimming. The claws are so huge that they sometimes can't walk on hard surfaces. Another cool thing about them is their tail. To them is almost like a fifth leg and causes better stability when they have to use all four legs to dig with.
The Pink Fairy Armadillo is nocturnal and doesn't like to come out of its burrow. The only time they surface is when they run into something they can't dig through or if their burrow gets flooded. This is probably the reason almost knows one knows about them. Another theory is that they are being found and brought home as pets then die from stress, or are killed by dogs.
Either way they are very rare, and now you can say you are one of the few that know about Pink Fairy Armadillos.
Find new information about whether they are going extinct?
Is climate change affecting this armadillo?
Why are dogs the main predator of this armadillo?