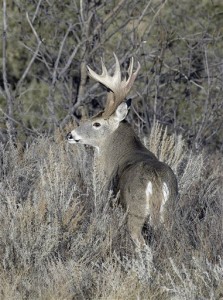 There are many reasons why deer populations have decreased over the past years.  Some of the reasons include their habitat, diseases, and also harsh winters.
Deer are susceptible to a variety of diseases and parasites. One of the main deer diseases is hemorrhagic. Hemorrhagic disease is a general term for epizootic hemorrhagic disease and bluetongue virus. Some infected deer may not show obvious symptoms, while others may die in one to three days. Typical symptoms include fever; excessive salivation; swollen neck, tongue or eyelids; sloughed or interrupted growth of hooves. Not all deer die from the disease but researchers say that almost 50 percent do. You can find it here.
Another reason why the deer population has decreased was the habitat. The most valuable and preferred food plants are browsed out or eliminated. Deer are then forced to utilize lower preference foods with lower nutritive quality.  Coyotes are a huge factor on the deer. They work in packs on deer population. Coyotes focus on fawns or the weakest one. You can read this article.
The harsh winters are another factor on why there is a decrease in deer population.  The cold weather with strong winds lowers their metabolic rates and they lose their body fat.  With the harsh winters it is hard to find food.  Deer need good nutrition in order to survive.
There has been a decrease in deer population over the past years.  If there were fewer diseases, more food and the winters weren't so harsh the deer population would be greater and this would give the hunters more opportunities. If you would like to find more facts click here.