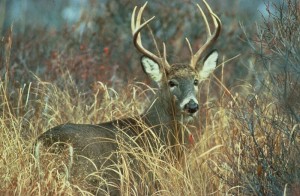 Deer population varies from year to year. Deer population can be very high one year and then the next year it is very low. For there to be a lot of deer they need to have just right living conditions, they need plenty of food and water. They also need shelter from the weather. This is more important in some place than other, such as places that get really cold. Over population however causes diseases and that is a big killer in the deer population.
There are many ways to have deer populations grow, according to field and stream there are ten simple ways to bring in more deer to your area, to read up on these tips go to this website. Having proper bedding areas for deer will also attract them, and keep them in the area.
Many herds of deer get taken out from disease, one disease that kills deer is blue tongue, many of mule deer get blue tongue. This can take out a herd of deer very quick. a disease can go from white tail deer to mule deer, deer tags also take a huge drop when these dieses happen.
Deer need water and food to grow and stay healthy. if deer do not have enough food and water the will not grow up to be mature and safe. The food that deer it greatly decided on how healthy they will be. Some food make deer grow and mature faster. Deer will herd up where this is a lot of food and water and a place nearby to bed.
Overall deer need food water and shelter to stay healthy. They will go to places that have these things. In the winter they will stay together in a small area, doing this it is very hard on the land that they are on because they eat all the food. It could also spread dieses if one were to get one. Deer are smart animals and the will try live in the area they feel is the best for them.
How does the amount food a deer has affect its health?
Does the amount of deer in an area affect how their health will be?
Does the kind of deer in an area affect how their health will be?