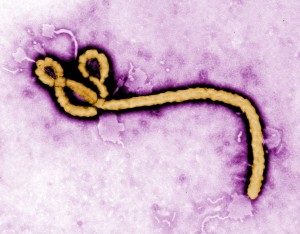 Imagine you are getting muscle pain, vomiting, weak, fever, and headache and you're wondering what's wrong with you. Well, that's what Ebola is. Ebola can be very dangerous disease to have and it happen in Africa where they mostly have mosquitoes and many other viruses. . Ebola can cause disease in humans and nonhuman primates.
One reason, Ebola is a bad virus that can cause a deadly kind of hemorrhagic fever. And you can get through fetal infection. People also have noise bleeding and mouth. It is called hemorrhagic syndrome and usually occurs only in the late stages of the disease. Ebola can only spread body to fluids which means it can be spread human-human though needles or medical equipment.
Another reason, a lot of doctors are testing possible solution for those who are diagnosed Ebola or also knows as Marburg virus. Several vaccines and antiviral drugs are currently in development but are unlikely to be available imminently. Lastly, even staff members are scared to make direct contact with the patient who are sick with Ebola virus. 59% of people in Guinea and to neighboring Liberia and Sierra Leone were diagnosed with an Ebola.
Ebola is very harmful virus that you can even get it through your family members or friends who are diagnosed with it. Do scientist find a treatment yet? Well apparently not yet, but Many doctors and scientist are finding a possible treatment for Ebola. Where is this taking place? It's taking place in mostly West Africa like Sudan and many countries not only in Africa it's also takin place in South America North America and Europe.
Is there a treatment on Ebola in 2016?
Will Ebola become an epidemic in the United States?
Is Ebola virus related to Zika virus?